The feedback and reviews we receive from our customers are invaluable because they're first-hand accounts of their experiences with us. The feedback lets us know what we're doing right and/or what areas of our business we can improve upon.
We had a wonderful customer who described the positive and great experience they had with our team here at Richmond BMW Midlothian, and we wanted to share their words of affirmation. They highlighted a member of our service department team and provided an insightful testimonial.
All feedback is appreciated and welcomed so that we know how best to serve our customers. We truly appreciate the positive testimonials and reviews we receive from customers because we really do aim to build and maintain such lasting relationships. We can't speak enough of how much we appreciate the loyalty and positive comments!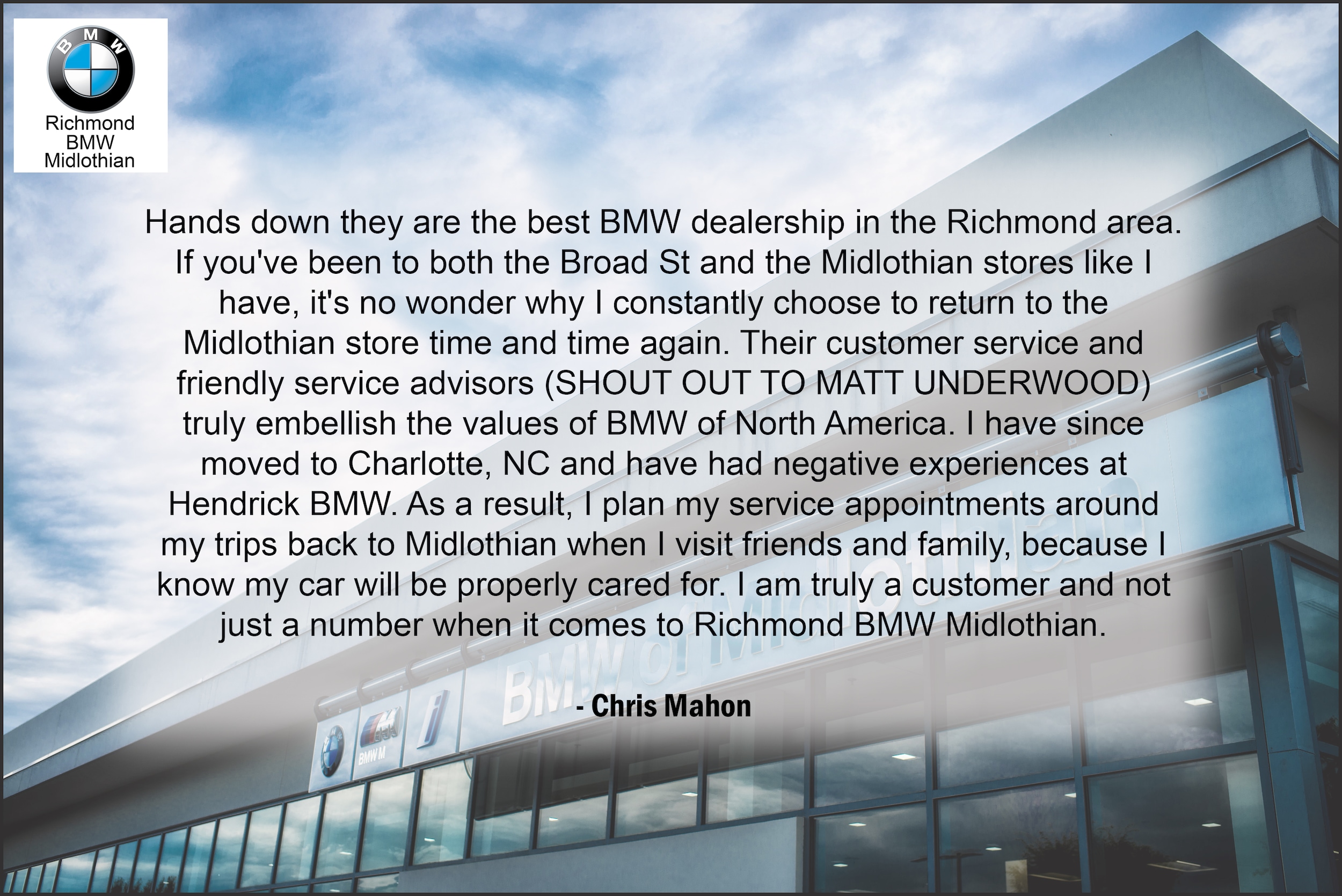 "Hands down they are the best BMW dealership in the Richmond area. If you've been to both the Broad St and the Midlothian stores like I have, it's no wonder why I constantly choose to return to the Midlothian store time and time again. Their customer service and friendly service advisors (SHOUT OUT TO MATT UNDERWOOD) truly embellish the values of BMW of North America. I have since moved to Charlotte, NC and have had negative experiences at Hendrick BMW. As a result, I plan my service appointments around my trips back to Midlothian when I visit friends and family, because I know my car will be properly cared for. I am truly a customer and not just a number when it comes to Richmond BMW Midlothian.
Shout out to Johnny as well. I had a pothole claim a tire Friday evening, had the car towed that night to the dealership, and he had the car ready to go for me Monday morning! You can't beat that!" - Chris Mahon